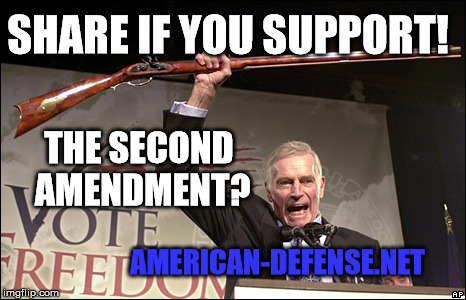 The American Defense Network (ADnet) is releasing the organization's position statement on American gun rights and the Second Amendment today.
This information is being added as a new permanent page at www.American-Defense.net found in the "What We Do" section on our top website toolbar.
The article contains a social media meme which is easy to share with others on Facebook or Twitter, and we hope you will read, utilize, and share the contents of this new page as Americans address important issues such as gun rights, gun control legislation, and the efforts of the left to pursue fun confiscation similiar to England and Australia.
ADnet believes that public support for the Second Amendment to the Bill of Rights is essential to personal, community, and national security, and that all other Constitutionally protected rights and liberties depend on the Second Amendment.
American citizens must have the power, tools, accurate information, and weapons necessary to defend our nation, Constitution, and way of life from all enemies foreign and domestic during a time when it is becoming abundantly clear America has been compromised on many fronts.
Please take the time to review and share ADnet's position on gun rights at this link and join our e-mail alerts if you support our positions.
We also welcome your constructive feedback as we design ADnet to represent your concerns while educating the American public and public policy officials on today's most pressing issues like Gun Rights.
(Please visit, read, utilize, and share...)
ADNET: Protecting American Gun Rights
http://american-defense.net/what-we-do/gun-rights.html